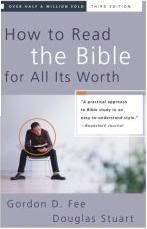 The notion of reading the Bible can sometimes be trickier than it seems: on the one hand, the Bible itself admonishes all Christians, regardless of background, to take seriously the study of the Scriptures; on the other hand, the study of Scripture can often seem daunting, requiring a great deal of specialized training inaccessible to the average layperson. How can the everyday Christian learn to carry out informed personal study of the Scriptures without being utterly dependent on technical experts (or being forced to become one)? Gordon Fee and Douglas Stuart attempt to tackle this very issue in
How to Read the Bible For All Its Worth (3rd Ed.)
, a handy and easy-to-read primer for reading and understanding the Scriptures.
To many Christians, the idea of reading the Bible seems like an incredibly simple one. "Of course I can read the Bible -- I know how to read, don't I?" But Fee and Stuart give plenty of examples of ways in which people read the Bible that they would never apply to any other reading material. The authors set out to provide guidelines which any Christian can use to more beneficially read the Scriptures. In fact,
reading
is the operative word, as Fee and Stuart stress the fact that detailed study of specific passages, although important, is no substitute for reading the whole of Scripture in context.
The book's major strength is the arrangement of its chapters into discussion of specific genres within the canon. As the authors stress, the Bible is comprised of several literary genres, with certain "rules" inherent to each; in fact, failing to read a given passage according to its genre is the root cause of no small number of interpretative mistakes. Fee and Stuart give specific attention to the Epistles, narrative (both Old Testament and the Book of Acts), the Gospels, Parables, the Law, the Prophets, the Psalms, Wisdom Literature and the Revelation. With a strong background in Biblical scholarship (Fee for New Testament and Stuart for Old Testament), the authors provide extremely helpful explanations of the different genres, as well as guidelines for reading each. As mentioned above, Fee and Stuart stress the importance of
reading
the Bible, and they provide many useful examples of the conventions of the various genres with an aim towards stimulating further study.
Additionally, Fee and Stuart give helpful thoughts on selecting appropriate Bible translations and commentaries, with recommended commentaries for each book of the Bible. One of the major benefits of the book is that it provides a wealth of bibliographical material. Those looking for a primer will find the book very useful in its own right, but the authors also provide plenty of additional information for further study (including their own follow-up
How To Read the Bible Book by Book
).
Overall, this book is a useful addition to any Christian's library. Highly recommended.