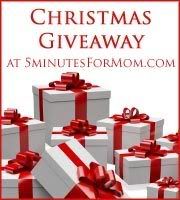 Lately, I've been addicted to entering contests, and this is one of the best. So far, the prizes include diaper bags, a stroller, cameras, and a Secure2Me blanket (I have a sun-protection one, and think these are a great idea! Love the warm winter cuddly ones!). Click on the graphic here on in our sidebar to find out more -- it runs through Nov. 25th, so you might want to check it our soon!
Also, for those of you who aren't moms, I'm adding a
Prizey
graphic way down at the bottom of the sidebar, because online giveaways are fun, and someone has to win them, right?
|