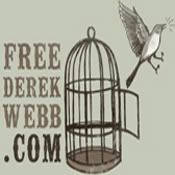 No, he's not in prison. But on September 1, Derek Webb will be making his
Mockingbird
album available for download, in its entirety, for free.
Says the little bald man:
one of the things that excites me most about the future of our business is how easy it is becoming to deliver music to people who want to hear it. i heard a story once about keith green caring so much that people were able to hear and engage with his music that he gave it away for free, which was a very difficult and expensive thing to do at that time. it's actually never been as simple as it is today to connect music with music fans. and i want people to have a chance to listen to mockingbird and engage in the conversation.

so this is why, on september 1st, we're launching freederekwebb.com, a place where anyone can go online and not just hear but actually download, keep, and share 'mockingbird' completely for free. In addition, freederekwebb.com will give you an opportunity to invite your friends to download 'mockingbird' in order to get them in on the conversation as well.
Pretty cool.