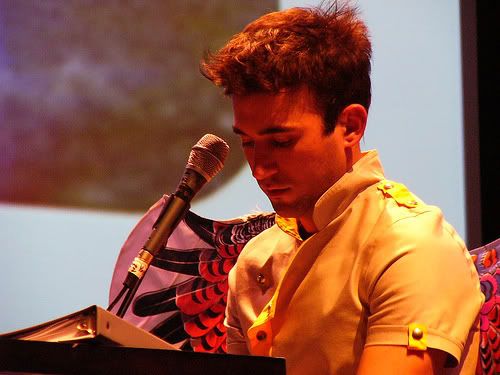 Last night, Sufjan Stevens rocked Atlanta, Team Redd inclusive. Words cannot do the show justice, but I'll try to give you the flavor of the evening. But, even though we had read about what to expect from this tour, we were thoroughly blown away.
Here's the scoop:
After work, Allison and I took the MARTA (it's smarta!) train downtown to the
Fabulous Fox Theatre
, one of Atlanta's truly historic landmarks. The Fox is an elegant facility, with a seating capacity of ~4600. I'm not sure if the show sold out, but it had to have been pretty close, as we saw few empty seats.
According to the AJC
(note: free registration required), the Fox is the largest venue at which Sufjan has ever performed. We met up with my sister and her husband, as well as some other friends, prior to the show. But since Team Redd managed to score SWEET SEATS, we soon parted ways. Said SWEET SEATS were in the orchestra pit, five rows from the front, house left -- a great vantage point from which to see most of the stage. A few of the musicians on the other side of the stage were obscured, as was Sufjan during his few piano songs. But for most of the show, we had a great view of the man from Michigan.
The opening act was My Brightest Diamond, aka Shara Worden, fellow label-mate from Sufjan's Asthmatic Kitty Records. Admittedly, it took me a little while to get into her stuff, especially since the first few songs were very ethereal, with lots of chiming guitar harmonics and falsetto singing. The string players (from Sufjan's ensemble) helped to add some richness to her sound, but I still wasn't sure what to think. Thankfully, her later songs were much more agressive, filled out by drums, bass and electric guitar crunch. She has a great voice for rock/blues singing, and the latter half of her set was pretty good. All in all, not bad for an opener. But we didn't come for the opener ...
After the intermission, Sufjan and company took the stage, and instruments abounded. Sufjan alternated between guitar, banjo and piano throughout the evening. Shara Worden sang background vocals and played electric guitar, as well as a tiny musicbox piano. Sufjan also had a drummer, bass player and another electric guitarist providing the rhythm/rock section. But most impressive by far was the combination of an eight-piece string section (2 cellos, 2 violas and 4 violins) and a three-piece brass section (two trumpets and a trombone). One of the violinists also played guitar (electric and acoustic) on a few songs. Oh, and the entire group was clad in matching uniforms (band outfits?) complete with butterfly wings and Mardi Gras-esque bird masks. Sufjan, however, was adorned in bird wings. Sure, it sounds weird. Okay, it
was
weird, but he made it work.
Needless to say, this instrumental array provided quite a rich sound, with almost every song receiving a full and glorious treatment. After taking the stage, the musicians played a beautiful instrumental prelude. Throughout the show, images were projected onto a screen behind the band, making for a really cool effect (often incorporating older-looking, home movie footage). The prelude was played over a set of abstract images that gradually went from dark to light, giving a sunrise-like effect. Following this, they played "Sister" (from
Seven Swans
), and this song set the tone for the evening. Sufjan always makes great use of layered instruments and voices on his albums, to great effect. This often ends up sounding vibrant yet unpolished, like a high school band (in a good way). Last night, though, the instrumental ensemble sounded quite majestic. Instead of being dominated by the rough, overdriven guitar of the album version, "Sister" was lush and orchestral.
Here's the complete set list:
Sister
The Lord God Bird
The Transfiguration (partial)
Detroit, Lift Up Your Weary Head!
Casimir Pulaski Day
John Wayne Gacy, Jr.
Jacksonville
The Predatory Wasp Of The Palisades Is Out To Get Us!
Abraham
A Good Man is Hard to Find
Majesty Snowbird
Seven Swans
The Transfiguration (complete)
Chicago
Encore:
Romulus
The Dress Looks Nice on You
From what I've read elsewhere, this might have been the best setlist yet on this tour. Although previous nights saw "Night Zombies," a Christmas song and some tunes from
The Avalanche
, last night had a heavy emphasis on songs from
Seven Swans
, with 6 of the 12 tracks represented. I don't think I would have changed a thing.
As far as highlights go, the whole evening was consistently amazing. One notable incident occurred three songs in, during "The Transfiguration." About halfway through the song, there was a deafening blast of distorted static that brought everything to a screeching halt. It took several long minutes for the sound guys to find the problem and swap out some cables. Sufjan was visibly shaken, but the crowd was extremely supportive. We were all sad when Sufjan announced that they would move on to the next song, quipping "I believe in divine intervention." Thankfully, they played the song in full at the end of the set, this time without mishap, and it was marvelous.
As I mentioned, the ensemble really brought great depth to Sufjan's songs. The big ending of "Predatory Wasp" ("Oh great sights upon this state, Hallelu- ...") was breathtaking, finishing with a wall of sound that was tense yet beautiful. In contrast, the haunting and minimal instrumentation on "John Wayne Gacy" only accentuated the creepiness of the song, leaving me speechless. Sufjan also played a brand new song, "Majesty Snowbird," which made great use of the entire ensemble, with crunchy electric guitar, thumping bass, replete with string/brass goodness -- "majesty" is definitely an appropriate title! I'm curious as to what stylistic turns Sufjan will take with his next album, and I'm hoping this might be representative.
The video projection behind the band contained some really cool stuff, usually tying into the songs. "Detroit," for example, featured some dated footage of the bustling Motor City. "Jacksonville" included a bunch of home video footage of the Illinoisemakers acting goofy, with a funny section centering around Superman. The videos were used well, never distracting and only enhancing the music.
After a rousing rendition of "Chicago," the band left stage to a thunderous standing ovation. A few minutes later, a tired-looking Sufjan Stevens returned to the piano to deliver a poignant solo performance of "Romulus." A few of the band members then joined him to play a mostly-acoustic version of "The Dress Looks Nice On You." And then it was time to leave.
One funny thing after the show: there were tons of guys outside the theater selling knock-off Sufjan T-shirts. It looks like they pulled the pictures/art straight from the web site. I guess you've truly made it big when you have your own bootleg merchandise.
Needless to say, if you have an opportunity to catch a show on this tour, DO NOT MISS IT!