Here's a photo from the upcoming Caedmon's Call album, due in August.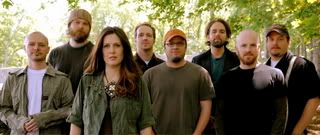 Yes, that's Derek with the band. The long-swirling rumors are apparently true. Frankly, the prospect of a Caedmon's lineup featuring both Derek
and
Andy Osenga just makes my head asplode. In a good way.
UPDATED:
Here's a press release from Caedmon's new label.