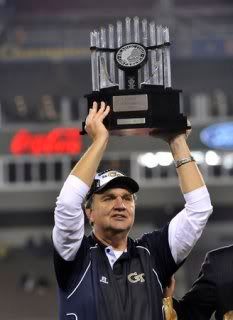 Georgia Tech 39, Clemson 34.
The ACC Championship was a nail-biter down to the final minute, but the Jackets came out on top. A few reflections before bed-time:
1. Being the punter for Paul Johnson is either the worst (if you actually like to play) or best (if you're really lazy) job in the world.
2. Josh Nesbitt is one tough dude.
3. Once again, Scott Blair proves he can be
the man
when he needs to be.
4. I'm glad we'll never have to play C.J. Spiller again.
and lastly,
5. Most awesome fruit? ORANGE, BABY!
Go Jackets!
|