Today has been one of those "Mr. Fussy" days, when I can't quite figure out what's wrong with our baby boy, but it's not hunger, or a poopy diaper, or a need to burp, or lack of sleep. Possibly tummy issues?
Anyway, on Monday we had the same predicatment, where Jacob did not want to be put down anywhere. He just wanted to be held. Which is fine, I love to hold my baby...but not for three hours. Enter the
hotsling
.

I've had this pouch for a few months now and love it-- I wear him on quick trips to the store or around the house. And it worked on Monday to help me at least have a hand or two free to move about while still keeping him calm. I can do many things one-handed, but laundry is not one of them. While I would never cook with Jacob in the hotsling, I can do almost anything else.
Well, today when I pulled out my cream-colored pouch out of the diaper bag to try to console my extremely fussy son (read: crying, yelling, unconsolable son), he instantly SMILED and LAUGHED. He is only three months old and he recognizes it as a source of comfort! That is so cool! I tried to document this phenomenon in the mirror, but our results were not stellar. You can see, though, he's definitely happy! So happy, in fact, that he is currently asleep in the hotsling as I type.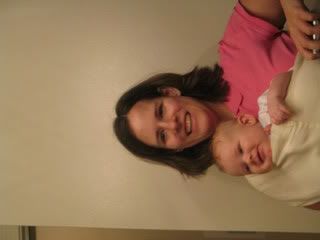 P.S. I look exceptionally happy because he is finally smiling again!
P.P.S. I'm thinking of dyeing this pouch. Summer makes me yearn for color, although I was thinking a camel/dark khaki so it would complement almost any outfit. What color should I choose?