... says Coach Paul Johnson, after the Jackets eked out a
30-27 overtime win against Wake Forest
.
Of course, the description "eked out" hardly does justice to Johnson's bold call to forego the game-tying field goal on 4th & 1. Granted, Johnson usually goes for it on fourth anyway, but the Jackets had not had much success with it on Saturday: Tech was 0-4 on 4th down conversions going into overtime. A gusty move, but it paid off when Josh Nesbitt muscled his way forward for the first down. He ran in the winning touchdown on the next snap.
Wake Forest definitely played a heck of a game. After watching them nearly upset Miami last week, I knew they would give us a hard time. Plus, we had a few dumb penalties on crucial plays that kept the game closer than it should have been. But the Jackets prevailed.
With the win, and a few upsets in the top ten, Tech moves up to No. 7 in the polls. Next up: a visit up to Duke, where a win clinches the Coastal Division and sends the Jackets to Tampa for the ACC Championship. Duke should be an easy win, which is enough to make Tech fans everywhere start sweating: this is the point in the season where a Tech team on the rise typically has the rug pulled out. But then again, Paul Johnson plays to win.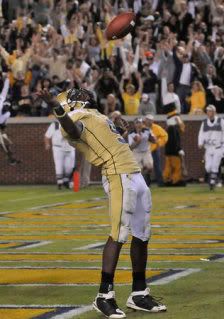 |