Yellow Jackets Rally Past Commodores, 56-31
So the first half was definitely more trick than treat: even though the offense started strong, the Tech defense allowed Vanderbilt -- Vanderbilt!! -- to put up 28 points before halftime. Thankfully, the D pulled it together and allowed the Commodores only a field goal in the second half. Whatever Coach Johnson said in the locker room to whip them into shape for the remainder of the game worked. Which raises the question -- Coach, can't you do that
before
the game, instead of making Tech fans suffer for the first half? Just sayin'.
On the positive side, the Tech offense put up some big numbers on Saturday. As expected, Nesbitt personally carried in a couple of touchdowns, but the pleasant surprise was that he passed for 193 yards and another pair of scores. Jonathan Dwyer had a record 186 yards rushing, including three touchdowns of his own. The Yellow Jackets had a combined offense of 597 yards. The moral of the story -- Georgia Tech can put the points on the scoreboard! Now we just need our defense to consistently prevent our opponents from doing likewise.
Fun fact: the Commodore who caused us the most grief on Saturday was Warren Norman, who Allison taught at Chamblee High School. Norman was particularly devastating on kickoff returns (including an 80-yd return for TD), demonstrating again how much work the Jackets still need on special teams. It's always a bad thing when your kicker has to make a stop. Granted, it's always fun to see what crazy thing kicker Scott Blair will do each week. (You might remember his touchdown pass in the Clemson game on a fake field goal.) This week he forced Norman to fumble a kickoff return and recovered the ball for the Jackets.
With the win, Georgia Tech creeps up to #10 on both the BCS and AP standings. Next week: at home against Wake Forest, where a win will bring us one step closer to the ACC Championship.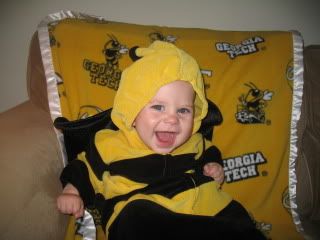 |