No. 7 Georgia Tech Runs Over Duke to Clinch Spot in ACC Title Game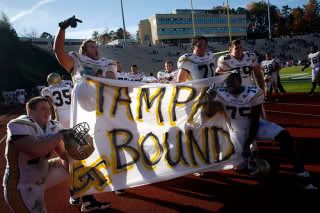 First things first: I really need to stop watching the opening quarters of Tech football games. Saturday was a prime example: In the waning minutes of the first quarter, the Jackets were down 10-0 to the Blue Devils. Say what?!? But as usual, Coach Johnson made some adjustments, and GT was in business. After an 83-yard kickoff return, Tech scored the first of seven unanswered touchdowns for the day. Jonathan Dwyer rushed for over 100 yards (as usual), and Josh Nesbitt passed for 195 yards and 2 TD's -- on just 6 completions. Six different Yellow Jackets scored touchdowns. And our backup players went in for pretty much the entire fourth quarter.
The win earns Tech a spot in the ACC Championship Game down in Tampa on December 5, most likely in a rematch against the Clemson Tigers (but they aren't locked in just yet). But the real game of the season is in two weeks: after a much-deserved week off, the Jackets host the hated Bulldogs from Athens.
In the polls, Tech remains at No. 7, since none of the teams above us were kind enough to lose this weekend. Alas.
One last thing: curious about what Coach Paul Johnson will do on a given 4th down? Here's a handy tool.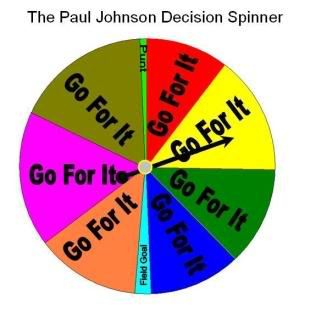 Go Jackets!
|