No. 19 Jackets topple No. 4 Virginia Tech 28-23
In the end, Beamerball was no match for the perfect option. GT's defense finally stepped things up, as evidenced by the fact that the Hokies had only scored 3 points at halftime. Granted, the Jackets had only 7 on the board after two quarters, but the offense erupted in the second half. It was awesome. Josh Nesbitt is out of control, in a very good way.
With the win, the Jackets move up to #11 in the AP poll. Additionally, GT appears at #12 in the first week of BCS rankings.
Next week: Virginia, currently in the lead of the ACC's Coastal Division. These guys are a perpetual thorn in our side, so a win at Charlottesville would be huge.
Oh, and no major home victory would be complete without a frenzy of goalpost destruction, as seen below. If only we could have been there in person for the mayhem...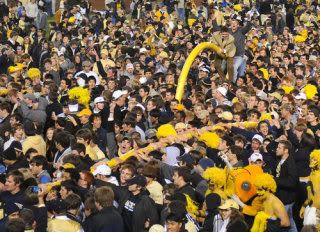 |