Sure, I'm a day late, but there's so much to report! For starters,
No. 11 Yellow Jackets Win at Virginia for First Time Since 1990, 34-9
Even in their less successful seasons, the Cavaliers have been a perpetual thorn in Georgia Tech's side. This year, the stakes were much higher, as Virginia led the ACC Coastal Division going into the game. The Jackets had a few miscues in the opening quarter, in large part due to the wet weather up in Charlottesville (and apparently the field was still recovering from the U2 concert in Scott Stadium a few weeks prior). At halftime, Tech led 13-6. However, upon receiving the ball at the beginning of the third quarter, the Jackets launched a mammoth 18-play, 10:47 scoring drive that pretty much broke UVA's will. Check out the look on Al Groh's face: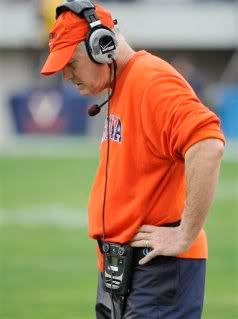 Therein lies the insidiousness of Paul Johnson's offense: when you can have possession of the ball for over 42 minutes in a game, it's pretty dang hard for your opponent to regain the lead.
But wait, there's more. With Miami's loss on Saturday (thanks Clemson -- maybe we'll see you again in Tampa), Tech rises to the top of the Coastal Division. If we win our remaining conference games against Wake Forest and perennial ACC whipping boy Duke, we're going to the championship game.
Tech edges up a notch to #11 in the BCS this week, holding steady in the same slot on the AP poll.
Next week: a Halloween night visit out-of-conference to Vanderbilt, where the perfect option will make the Commodores horrifying season even scarier.
Go Jackets!
|